Highlights
---
Introducing D'Youville University
In recognition of D'Youville's growth, development and educational mission, the New York State Board of Regents has granted the institution the status of university. The new status was first explored during the administration of retired president Sister Denise Roche GNSH and was enthusiastically pursued under President Lorrie Clemo's leadership, as she further expanded D'Youville's professional and doctoral programs. D'Youville University is the natural evolution of an institution which has always been at the forefront of education in our region – from its founding as the first college for women in Western New York, to the first bachelor's program in nursing, to the groundbreaking, interprofessional education and community healthcare offered through our Health Professions Hub. The new designation will help raise our status and name recognition, both nationally and internationally, to the benefit of alumni and students alike.
---
History Corridor Honors Our Heritage
Our new History Corridor on the first floor of the Koessler Administration Building celebrates D'Youville's long, celebrated history, from being the first all-women's college in Western New York to our new identity as D'Youville University. The corridor features archival photos, historical documents, and video screen displays. Students, alumni and visitors can learn about the life of our patroness, St. Marguerite d'Youville, the legacy of the Grey Nuns, the school's reaction to social changes and societal needs, and how D'Youville survived and thrived over our 113-year history, in our beautifully remodeled corridor. We hope you will have a chance to visit and see the History Corridor yourself.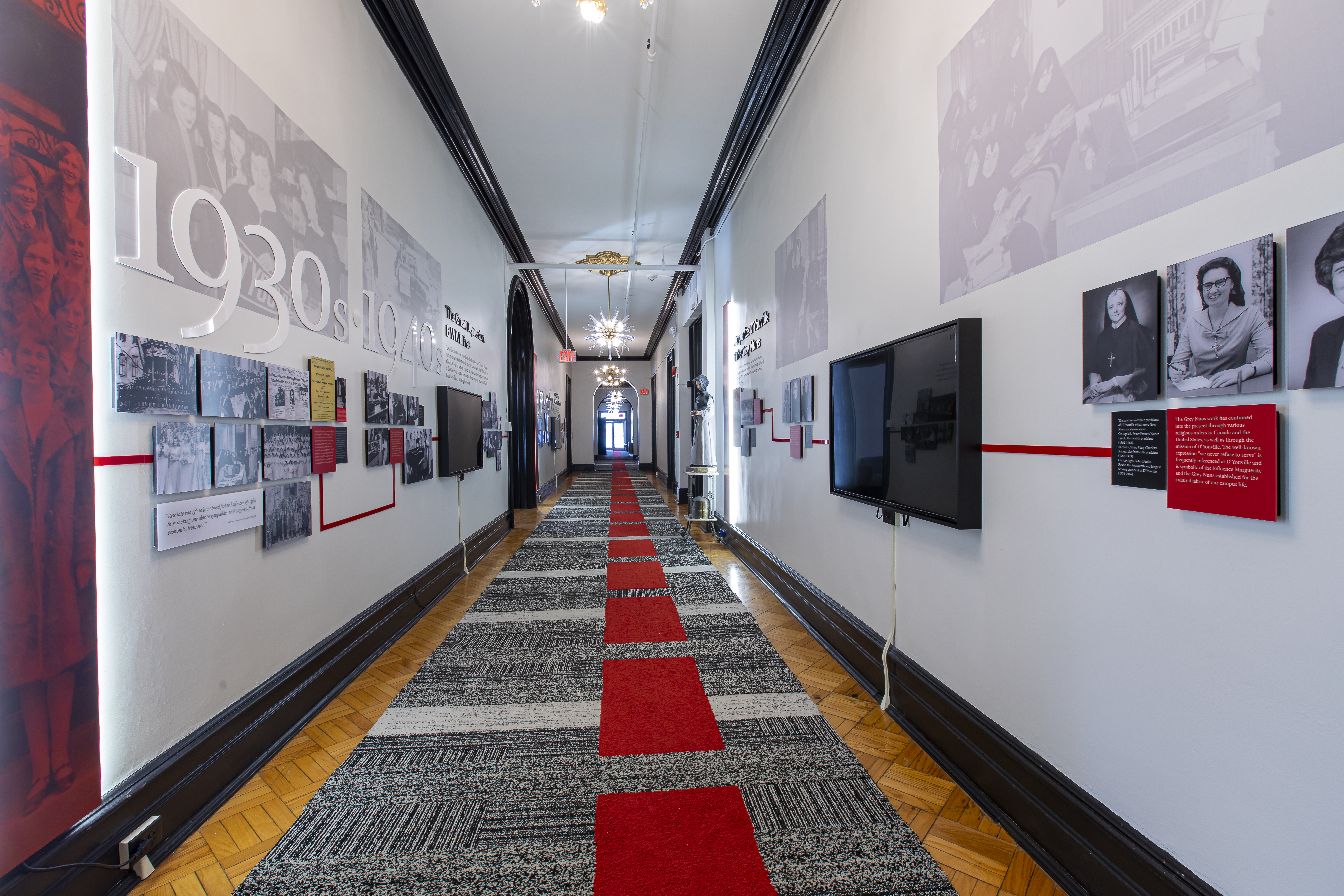 ---
D'Youville is first higher ed institution in U.S. to shift to 32-hour work week
In January, D'Youville began offering an amazing benefit to its employees - a four-day, 32-hour work week for the same pay and benefits they had at the five-day, 37.5-hour schedule. "The world of work has changed, and we cannot go back," said President Lorrie A. Clemo, PhD. "This is a multifaceted employee health and wellness initiative which we believe will ultimately benefit our students, employees, the institution, and our community." The program, which is under a six-month trial period, offers students uninterrupted services with expanded hours of operation, opportunities to interact with individuals cross-trained to have broader skillsets, as well as a campus community of people that are simply happier. Employees can enjoy a consolidated work week which rewards technology efficiencies, reduces shared office density, and supports individuals' pursuit of outside-of-work passions.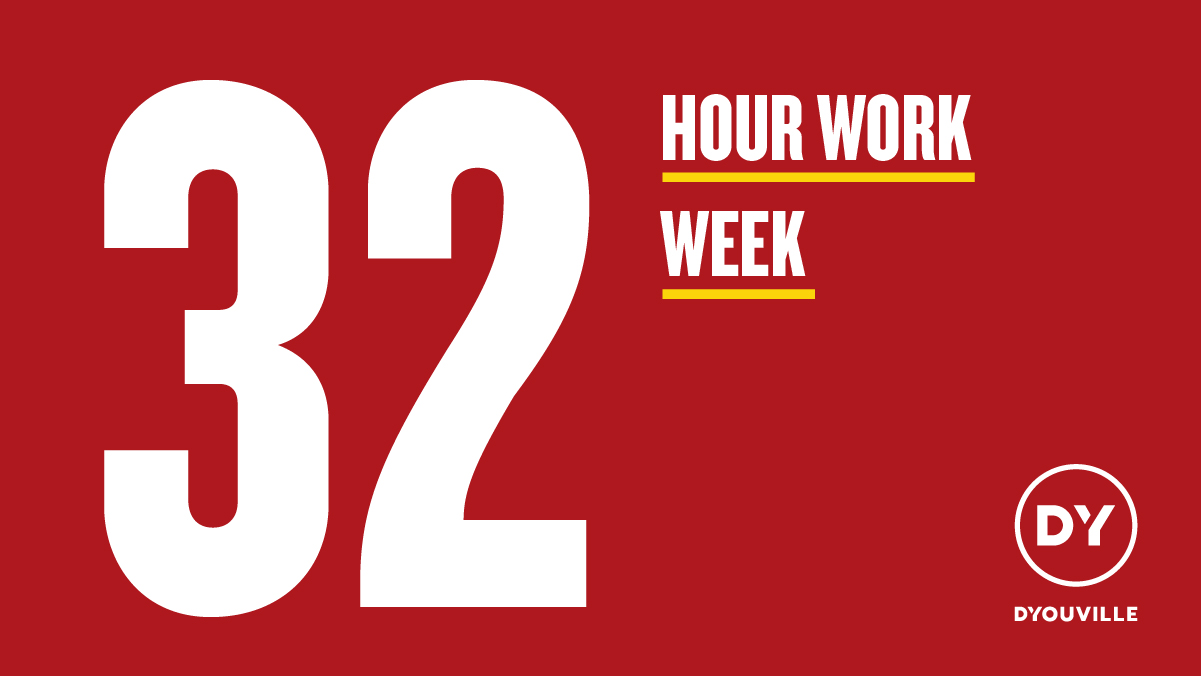 ---
December Commencement features return of Sister Denise for honorary degree
Sister Denise Roche GNSH, former president of D'Youville, was awarded an Honorary Doctorate of Humane Letters at the December Commencement ceremony, in honor of her many years of service and of the 100th anniversary of the founding of the Grey Nuns of the Sacred Heart, of which she is president. The citation for her degree read, in part, "Sister Denise A. Roche GNSH has been an exceptional influence at D'Youville, spanning generations of time. For 37 years, she guided D'Youville through ups and downs, deficits and surpluses; from low enrollment to healthy numbers, typewriters to computers. She oversaw a period of tremendous growth and left a legacy that will continue to serve many future generations seeking education at D'Youville." In her Commencement address, Sister Denise recalled the life and mission of St. Marguerite d'Youville, our namesake, and her followers like Sister Rita from Buffalo, and urged graduates to live a life of service to others.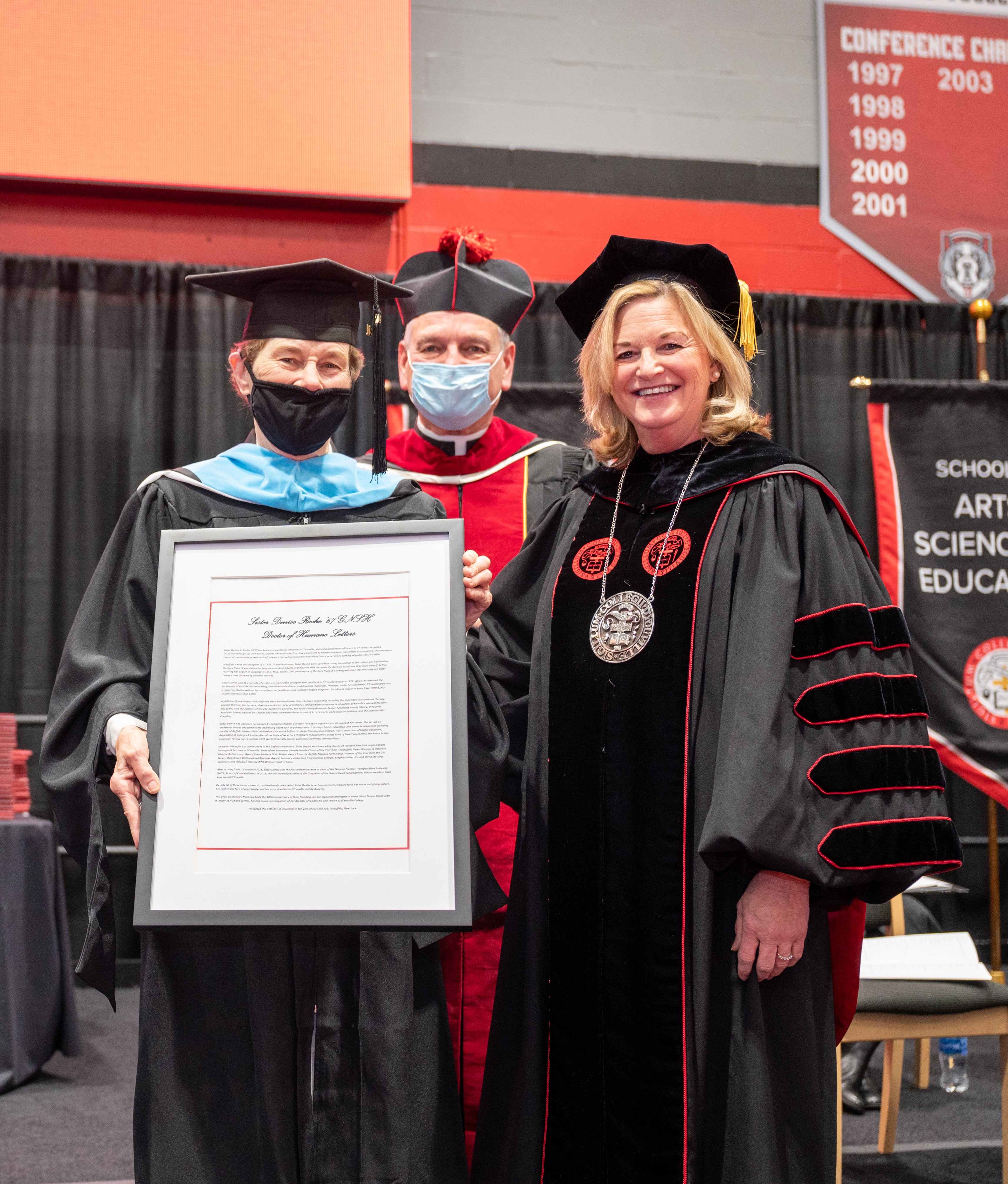 ---
Students Gain Valuable Experience in NYC
SIn December, 13 student leaders from D'Youville spent four days in New York City on a college-sponsored "field trip," where they visited the offices of international investment bank Goldman Sachs to learn about the world of finance and met with representatives of Centivo, a health insurance start-up based in Buffalo with offices in New York City, to see a new business in action. The students also had the opportunity to meet with two recent additions to the D'Youville Board of Trustees – Melissa Agnes, founder and CEO of the Crisis Ready Institute, which helps students and others develop resilience to face life's crisis moments, and Ofo Ezeugwu, founder and CEO of the online rating website WhoseYourLandlord, which has been called "the MVP of Landlord Review Sites" by ApartmentTherapy.com. They also had time to enjoy themselves with sight-seeing and attending a Presidential Reception for alumni from the Tri-State area, with President Dr. Lorrie Clemo presenting the latest news from the university.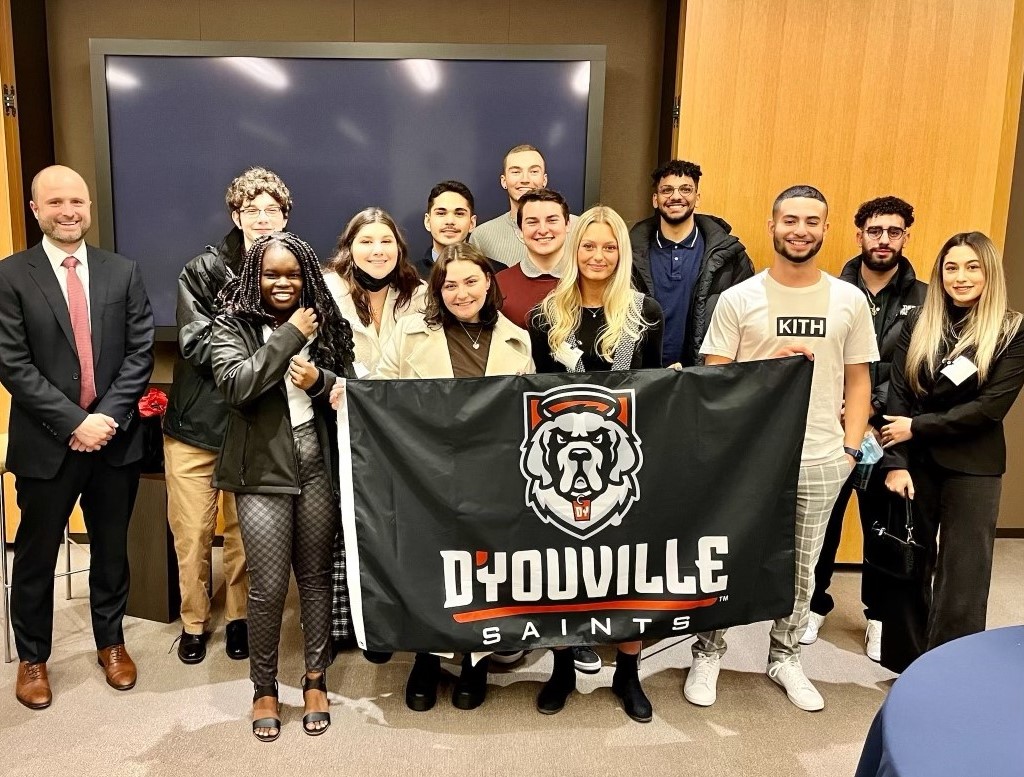 ---